Time Tracking UI 2.0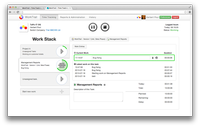 Our new WorkTrail Time Tracking UI 2.0 is a completely new take on web based time tracking. It is based upon Dart and features many usability, design and feature improvements.
Checkout our blog entry giving a sneak peak of our new Time Tracking UI in detail.
Give it a try
No matter if you already have a WorkTrail account, or not. Simply visit our new Time Tracking UI and either sign in or create a new account. This will immediately land you in our new Web UI. But: Make sure to change the default UI setting as described below, otherwise you will be redirected to the old interface whenever you switch away from the time tracking ui.
Start using the new UI

Want to help us test the new UI, or want to get a sneak peak on the latest features? Simply head follow this link to your user settings and switch the UI for Time Tracking to WorkTrail 2.0.