What can Time Tracking do for me?
We believe your time is valuable, so you should make it count! Time Tracking fulfils a multitude of needs for your team, company and customers. It is really valuable to have a tool which fits into your workflow to keep track of your work time as it happens.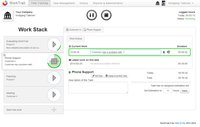 Accountability for your projects and customers
Time and material Projects: Your customers trust you, so give them what they deserve by accurately keeping track of your work time. You can even go further and provide detailed work reports for your team.
Fixed price: Always stay up to date how much time your team has spent on each project. Easily seeing how profitable they are and if you have to adapt your project plan and estimates.
Improve your productivity
"If you can't measure it, you can't improve it."
The first step to improve your productivity and streamline your workflow is to measure what your are actually spending your time on. By getting to know your behaviours and analysing what your most time consuming tasks are the first step to get rid of your biggest time killers.
With WorkTrail we are providing a tool to fit into the workflow of agencies, freelancers and project teams to easily keep track of their work for each project and task.
Dive right into WorkTrail
In the following video Herbert, Co-Founder of WorkTrail, leads you through your first steps. If you want to try it out yourself, don't hesitate to simply sign up for free and start tracking your time.