Future of web based Time Tracking
18. July 2013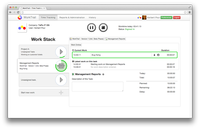 We are working on the next version of our Time Tracking UI which will greatly simplify and streamline your every day time tracking. Here you can find a sneak peak on the new time recording UI and a short introduction. The main focus lied in simplifying the UI visually, showing detailed real time status information so you never lose context without beeing overloaded with information. 
Keeping the good things

The new UI still has all the features of the original interface, but with a much easier structure. One of the things which we wanted to keep was the simple notion of a one-button time recorder. You can still start your time recording by pressing a single button - play. And if you want to take a break or stop tracking your time, these two buttons are always up top at the same location.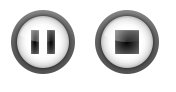 Simplified Visual Design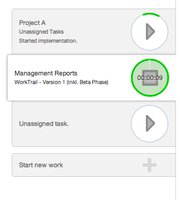 While our old design focused on 3d gradients and a very sophisticated design language we wanted to simplify as much as possible. The design should be easy on the eye, with simple features to make it attractive. We tried to keep the "Tab"-Metaphor for switching tasks alive, because users a very fond of this concept.
Feeling at home

To make it more fun to use our time tracker we want you to feel at home. So make sure your co-workers upload profile pictures (either directly to WorkTrail or use gravatar) and customize your company's logo.
Keep track of context

Whenever people track work time it is very important that the currently logged hours, previous work items and the currently running task can be glanced at in an instance. In the new UI all duration and times are updated as you track your time. At the top beside the recorder buttons you will always find how much work time you have recorded for the current day.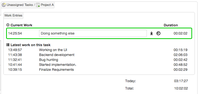 And when you work on a specific task you get all information in one spot. The time and description for the currently running work entry as well as a list of your last work items booked on that task. At the end of the list you get a summary for this task. How much time you booked on that task this day and how much time was booked on the task in total. All of this information is at a glance and kept up to date.
And more to come...
This is still not all, we will soon be posting more features teasers. We plan on releasing a beta version of the WorkTrail UI very soon, for all to try.