Tagged Entries "android"
22. August 2013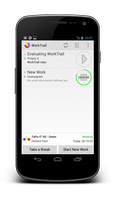 We have just published an update to our mobile apps for Android and iOS. Beside many stability improvements this release also adds more context to your time recording routine. At the bottom you will now see the company for which you are currently working, your status (working, break or signed out) and how much time you have worked today.
Previously you only had the information how long your current task was running. It should make it a bit easier to put your current work into context of your whole work day.
Both, iOS and Android updates, are already published and available in the Android Play Store and iTunes App Store.

Read more...