Get to your work history from the reports
18. February 2015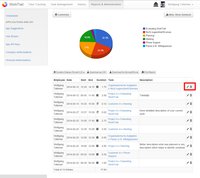 We have just released a couple of user requested features to the WorkTrail time tracking web interface. Sometimes the small features are the important once.
Better integration of work reports and history 
When you want to export your work reports for a given month you sometimes discover that you made typos in your work description, had assigned it to the wrong task or simply want to modify a work entry before exporting your reports. This has now become way easier. Simply click the edit/pencil icon and you are taken to the history edit view on the correct day with your work entry pre selected and in focus.
More open tasks in your work stack.
While we recommend to keep a clean work stack, with as few open tasks as possible, sometimes 9 tasks just aren't enough. We appreciate that our users have their own individual way to organize and structure how they work. This is why we have now lifted that restriction, feel free to open as many tasks as necessary for you.
This update is currently only available to the web version. Expect updates to our Android and iOS Time Tracking apps in the coming weeks.
More bug fixes and enhancements
In addition we made a few bug fixes which a few users encountered. For example occasionally the 'Play'/'Pause' button would not render correctly. This is now fixed for all users.
Keep it coming!
As always, we look forward to your feedback. Let us know in the comments or through the feedback form.