WorkTrail for Android - Mobile Time Tracking done right
12. March 2013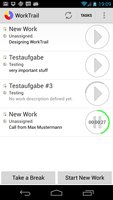 We have just released a new way to track your time easier than ever while on the go. The new WorkTrail App for Android allows users to track their time on their mobile as easy as through our web application. As always it is painless to get started, no sign up or any strings attached. Download the WorkTrail App from the Google Play Store and start tracking your work time. The App always stays in sync with your Work Stack from the web application and vice versa.
After downloading and installing the new WorkTrail App for Android you will be able to login or register. Use your existing login or just use a demo account to get started. You can easily start your work entries, assign them to tasks and close them again. As always, only work entries longer than one minute will be tracked for you. Making your work history as uncluttered as possible but still making it possible to eagerly switch between tasks.
Please see our extended Step by Step Tutorial for the Android App for more tutorials.